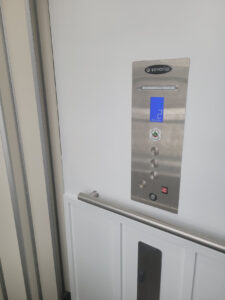 An old and poorly functioning elevator makes a poor impression, on your customers and your employees. Reach out to us for your South Jersey commercial elevator modernization; we can help your business make a much better impression.
Elevator technology and equipment is always improving. In time, you'll need to modernize your elevators, and we make it easy for you. Modernization involves multiple improvements, to your elevator's appearance, controls, doors, and interior décor, to help maintain its look and reliability.
You could need a modernization for a variety of reasons:
Your elevator is ten years old or older
It runs slowly
The doors and/or buttons don't function properly
It is in need of repeated repairs
Parts become obsolete
The interior is worn or damaged
Modernizing your elevator won't just make it safer and more efficient. It will increase your property's resale value, make your building more energy efficient, ease traffic flow, and keep your equipment up to date on safety and code compliance.
Each elevator and building is different, and we customize each elevator modernization to specific buildings. We also feature the non-proprietary beneficial factor, which we employ whenever possible, including controllers, hydro packages, door equipment, machines, fixtures, paneling, lighting, and traction elevators. This means that any qualified contractor can work on your equipment in the future.
At South Jersey Elevator, we'll replace your current aging machine with a modernized and upgraded 21st century machine. Take advantage of our more efficient and gearless motor designs, and its potential for big energy savings.
Remember, first impressions matter, and your elevator should look and work as well as it can. We'll make sure your elevator looks and runs great.
Reach out to us today to find out more and to schedule your South Jersey commercial elevator modernization … raise your building to a new level!