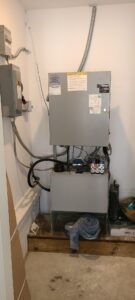 With our South Jersey residential elevator service, you won't need to worry about the function of your elevator or chair lift. We know things happen, and our experts are always available 24/7 to make repairs to your elevator in a timely manner.
When you call on South Jersey Elevator for repairs, one of our trained and experienced technicians will troubleshoot the problem and offer you the best solutions. Our technicians are CET-certified, AET-certified, QEI-Certified, and OSHA-30 certified and have the tools to take on any elevator issue. South Jersey Elevator will always provide you with a hassle-free, no-cost estimate before we perform any repairs.
If your elevator is beyond repair, ask us about our elevator sales and installation; we can build a brand new elevator for your facility or modernize your existing one.
Best of all, when you sign on for our affordable maintenance plan, we will keep your elevator running smoothly and help you avoid service calls and potentially costly repairs. Think of your elevator like your car; it needs regular maintenance to avoid problems down the road. We offer a variety of maintenance plans that suit your budget, with plans that include repairs as needed, or discounted rates on service calls and repair parts.
Many of our customers have come to us without ever having contracted with an elevator company, or are dissatisfied with their current service provider. Our South Jersey residential elevator service solutions give you peace of mind that your elevator is being repaired properly, and our maintenance plans are geared to keeping that peace of mind long term.
If you are becoming concerned about your elevator's function and need South Jersey residential elevator service, don't wait. Reach out to South Jersey Elevator today for repairs, and be sure to ask about our affordable service plans!