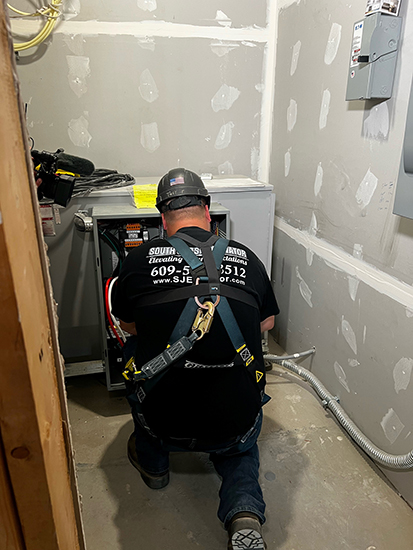 As a business owner, you can't afford to make a poor impression on clients. If your building's elevator is slow and noisy…or even worse, if it gets stuck at times…reach out to our South Jersey Commercial Elevator Service Division. If it's time for a new elevator, we can install a brand new, dependable elevator, at a price your budget can afford. If you have an emergency, call us now at 609-545-8512.
We are locally based and available 24/7/365 to respond immediately to any and all emergency service calls. One of our technicians will come to your building in a timely manner, and will troubleshoot the elevator to find the problems and why it's faulting. We'll then provide you with all of the best options to get your elevator running smoothly again.
All of our technicians are CET-certified, AET-certified, QEI-Certified, and OSHA-30 certified, and carry a wide variety of tools to tackle any elevator problem. South Jersey Elevator also offers maintenance and service agreements that suit the specific needs of your elevator machinery. Our maintenance plans keep your elevator running smoothly and help you avoid that panicked phone call for immediate repairs.
If your elevator is aging and beyond the point of repair, ask us about a new installation or modernization. We can build a new, reliable elevator for your business facility, and we'll work with you on a maintenance plan that keeps your elevator running strong and up to code throughout its life. A new elevator makes a world of difference in the impression it leaves on visitors, and it's always worth the investment.
If your building's elevator is slow and your visitors and employees are starting to become concerned, don't wait. Reach out to us today for South Jersey commercial elevator service and repairs, and ask us about our elevator installations, modernizations, and service plans. A stuck elevator with people inside is a disaster for your company…let us help you give your elevator the care it needs and keep your elevator running dependably, and your building moving.