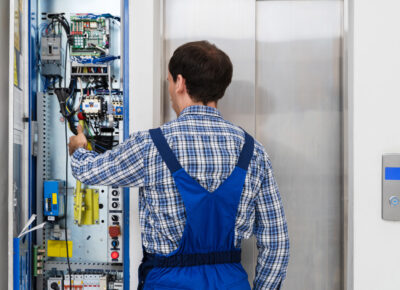 Is your elevator experiencing troubles, aging, or in need of replacement? Are you looking to install a functioning elevator on your property? Let South Jersey Elevator be the answer to your search for Glassboro NJ elevator companies. We handle everything, including new installation, elevator repairs, elevator upgrades, and low-cost maintenance programs that keep your elevator running smoothly. Our new installations and upgrades can be tailored to fit your budget.
If you have an elevator emergency in Glassboro, call us now at 609-845-8512.
A non-functioning, slow, or older-looking elevator is more than just an inconvenience to your property's occupants and visitors…it makes a world of difference on the impression your property makes. People remember a slow elevator, and they get nervous riding in a clunky one. Take care of this part of the impression and your occupants and visitors will be grateful.
South Jersey Elevator goes above and beyond to provide first class customer service and quality work. Our company is family-owned, and we believe in a family-oriented relationships with our customers. Our founder, William McGrath, has over 30 years of experience in the elevator business, and he started the company to provide better services and to avoid trends that he felt were unfair to customers.
We believe in providing not just quality service, but looking after details…like ensuring that we won't change your sales representative without warning, being available to answer your questions anytime, and ensuring that our equipment and tools are the best available. Our technicians are all CET-certified, AET-certified, QEI-Certified, and OSHA-30 certified, and they undergo continuous education in the industry. We are fully dedicated to your safety and satisfaction.
Get Started With Your Glassboro NJ Elevator Services Today!
Whether you need elevator repairs, replacement, installation or maintenance, reach out to South Jersey Elevator today. Find out why we're the established and reliable destination for Glassboro NJ elevator companies. We're ready to Elevate Your Expectations, and ensure that your new or existing elevator works right!